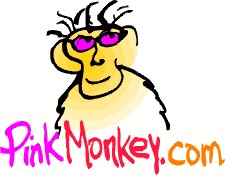 Copyright and Terms of Use

Return to Home Page
You are free to use the website for your personal use only without redistribution. This includes all contents found on the www.pinkmonkey.com site and the store.yahoo.com/monkeynote/ site, as well as any others containing our legally available content.
You may not reprint, redistribute or copy ANY part of the contents, text, graphics, files, format or code of our "content", without the specific written permission.
Any further use or distribution without specific written permission is an act of theft and we will pursue every possible civil and criminal legal remedy to prevent the theft and recover damages. If you wish to ask for permission to use our content, please contact
content@pinkmonkey.com
. Permission may be granted on an individual basis.
No "content" may be posted to anything or further distributed anywhere in any kind or conceivable format or manner without the written consent.The act of doing so will be considered an act of theft and/or copyright infringement.
If you find a website or someone distributing our content in any manner, either borrowed or stolen, please let us know by email to content@pinkmonkey.com
Legal Disclaimer
The "content" used and displayed on the PinkMonkey website(s), including, but not limited to, text, software, photographs, graphics, artwork, video, music and sound, names, logos, trademarks and service marks, are the property of the company or its licensors and are protected by copyright, trademark and other laws. Any such "content" may be used solely for your personal and non-commercial use. You agree not to modify, reproduce, retransmit, distribute, re-print, distrubute, disseminate, sell, publish, broadcast or circulate any such material, in any manner, without the specific written permission of the company for the purpose you seek.

The site(s) contain information, facts and opinions from various individuals and organizations. The information contained within is provided on an "as is" basis without warranties of any kind, either express or implied, including but not limited to warranties of title or implied warranties of merchantability or fitness for particular purpose.

Your use of the site(s) is voluntary and strictly at your own risk. The company shall not be liable to anyone for any loss or injury or any direct, indirect, incidental, consequential, special, punitive or similar damages arising out of your access or use of, or your inability to access or use, the site and content or arising out of any action taken in response to or as a result of any content available on the site. You hereby waive any and all claims against the company arising out of your use of the site and the content available thereon.